Their purpose is that every man, woman and child should have a simple, durable place to live in dignity and safety, and that decent shelter in decent communities should be a matter of conscience and action for all.
Project Overview
Their existing site was outdated, had poor navigation and didn't clearly guide the user in how to contribute to the NW Metro Atlanta Habitat for Humanity.
Project Task
The main goals of this project were to drive local business and church sponsorships, enhance community relationships and drive donations/volunteers. To accomplish these goals, a site with clear navigation, focused call-to-actions and a blog to tell the many heart-warming stories of providing houses to families in need was established.
Competive Analysis
Before diving into the project, I conducted an analysis of the many different Habitat sites across the country. In researching this, I looked to see how each site emphasized their call-to-actions and drew attention to sponsorships and donations.
User Profiles
1. Local Business/Churches: This is the main user profile Habitat wanted to build a better relationship with. The main reason for that is they need sponsors to fund the builds.
2. Homeowners: This user profile is the actual people Habitat is building home for and in need special assistance.
3. Volunteers: This user profile is looking to volunteer on the build site, in the office and collecting donations
4. People looking to Donate: This user profile is looking to give donations of money, cars and supplies.
Wireframing
Using illustrator to create a wireframe, we was able to layout and present how to access important aspects of the site.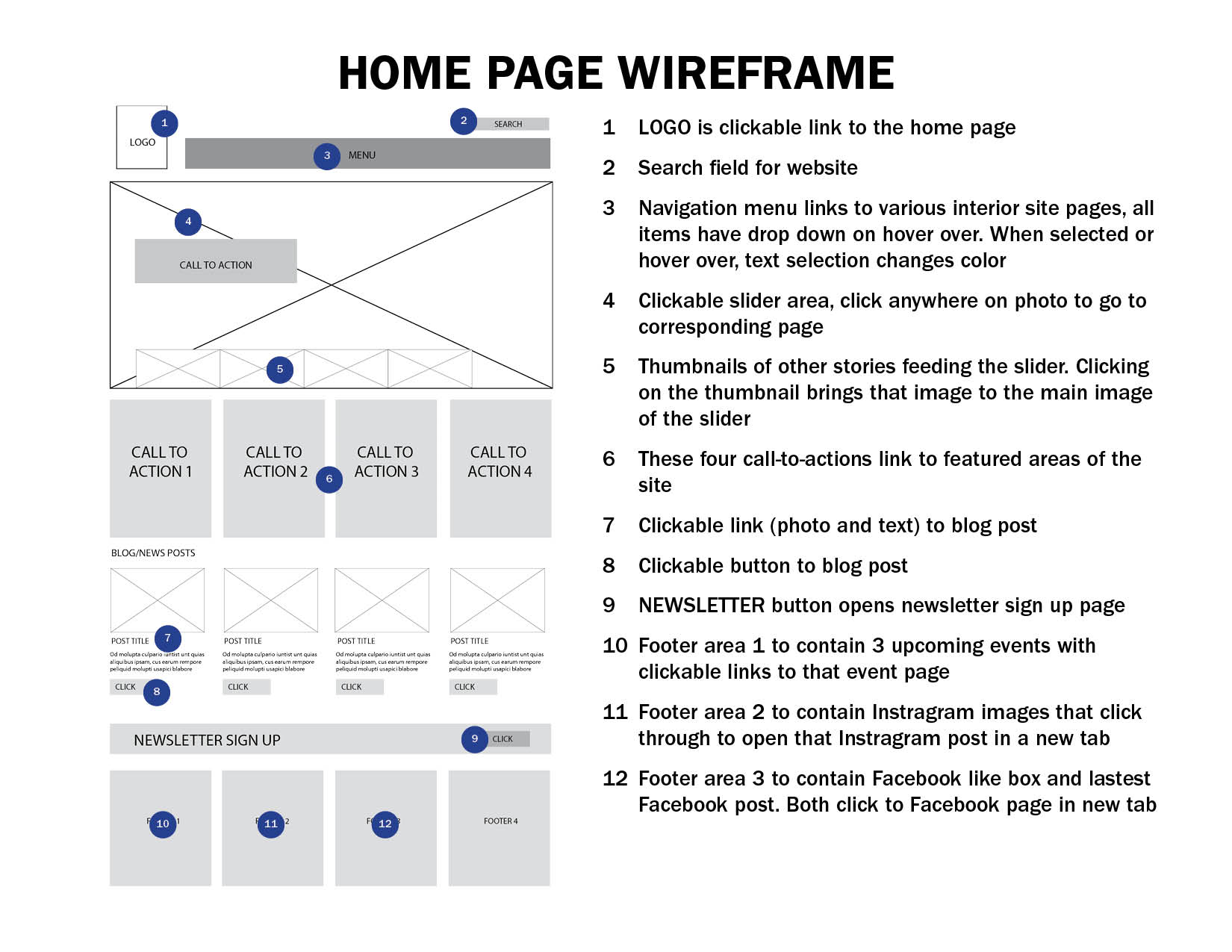 Design and Development
Once the structure of the site was approved, I researched WordPress templates to closely resemble the framework we wanted to present and build the site in WordPress.
Usability Testing
The site was tested by members of the of Habitat and the office staff to clear and concise navigation. All parties were happy with the results.
Final Deployment